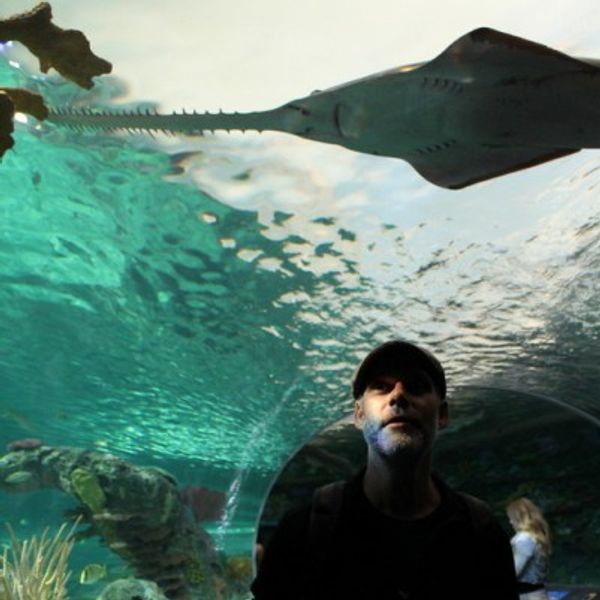 Chris Bottomley BIO
The distinctive funk, rock, reggae and jazz stylings of bassist, percussionist, singer and songwriter Chris Bottomley have been vibrating through Canadian music lovers for over 40 years.
Bottomley first burst onto the Canadian music scene in the mid-80s with his post-punk rock band ​Tulpa​, who he formed with his brother John on guitar & vocals and drummer Mike Severin. Legendary New York City club CBGBs' owner Hilly Kristol described Tulpa as "one of the best live bands I've ever seen." Tulpa's 1985 album ​Mosaic Fish​ earned the band touring dates, radio and video play, and media attention all across Canada and in 1988, they opened for punk-funk idols Living Color.
In the 90s, Bottomley was inspired by the fast-growing funk and groove scene in Toronto and started the Brainfudge collective that continues to this day.
Currently including Great Bob Scott (drums), Donne Roberts (African Guitar Summit, guitar) and Richard Underhill and Perry White (The Shuffle Demons, saxophones), Brainfudge's illustrious alumni list includes a who's who of top Toronto players such as Howie Beck (Mixed Feist, Communism, Buffy St-Marie) Odel Johnson (Messenjah, Mikey Dread), the late James Gray (Blue Rodeo), Eric St. Laurent, Bryden Baird (Feist) and many more. "The Fudge" lay Bottomley's signature rock, Afrolatin and reggae-infused funk grooves thick and heavy, performing regularly at music clubs, festivals, and private events across Ontario. They've shared the stage with the likes of Adrian Belew, Grupo Fantasma, and Souljazz Orchestra.
With Brainfudge, Bottomley has released four full-length records --1995's self-titled debut Brainfudge, the internationally-acclaimed ​Knotty Bits​ (2003) which won a Unisong International Song Competition grand prize in the world-reggae category for ​'Belize City Bakin'​, the 2006 double instrumental album Cerebral Lubrication​ which received airplay worldwide and his most recent album ​Bright Eye Day​ in 2014.
Over the years, he has played and collaborated with musicians such as Look People, Rich Underhill's Funk Explosion, Donne Roberts, Mary Margaret O'Hara, Wayne Lavallee, Brother John Bottomley, The Kensington Horns, Asani, Andru Branch & Halfway Tree, Gisto, Michael Garrick, House of David Gang, FreeDubStar, Abjeez, Eccodek, Ainike, Boogiewall Sound System and The Mofunk Collective.
His songs 'Seize The Day', 'African Head Dub', 'Brazilian Thunder Throb' and 'A Better Day Will Come' have been placed in feature films and documentaries.
"A Better Day Will Come" appears in the film "A Masked Saint" (2015)
Memorable Show Openers
Grupo Fantasma (The Horseshoe, Toronto, 2007)
Adrian Belew Power Trio (Mod Club Toronto, 2009)
Vernon Reid's Living Colour (Concert Hall – Toronto,1991)
Vernon Reid's Living Colour (Tulpa - CBGB - 1988)
Michelle Shocked (Tulpa - CBGB -1987)
DISCOGRAPHY:
"Pull It Together" w/Kathryn Rose - Single (2023)
"Summer" - Single (2022)
"Brainfudge - Live at Supermarket 2007" - (2021)
"Lonely Days" w/Russ Goozee - Single (2020)
"Bright Eye Day" (2013)
"Knotty Bits" (2004)
"Cerebral Lubrication" (2004)
"Brainfudge" (1994)
"Tangles & Spoils" (1991)
"Tulpa – "Live From CBGB" (1987)
Tulpa - "Mosaic Fish" (1985)
ALBUM GUEST CAMEOS
Eccodek
Boogiewall Sound System
John Bottomley - Library of the Sun
Astrogroove
Ainike
Sleeps Six
Laura Jean Manson
AWARDS
2013 - Recipient of OAC Popular Music Grant
2012 - Recipient of TAC Composition Grant
2005 - Winner of Unisong International Song Contest 2nd place award in World/Reggae category for my song "Belize City Bakin"
2005 - Top 20 Finalist Winner - Unisong International Songwriting Contest - Social/Political Category - "Where Our Hearts Belong"
"True to his reputation as one of the Big Smoke's best bass thumpers"
NOW Magazine
www.chrisbottomley.com
crispy@chrisbottomley.com
Facebook: @ChrisBottomleyMusic
Twitter: @bottomley